Tagged with:
Housing
|
Mountain Housing Council
|
newsletter
|
Placer County
|
Tahoe
|
Truckee
We know that there is no silver bullet to fix our housing needs. We also know that solutions need to come from a variety of places. Jurisdictional, employer, and community-based policies and programs all contribute to increasing housing security. Below, we have provided you with announcements and updates on upcoming events and other important news to distribute far and wide:
Over the past six months, the MHC has worked to identify how housing needs in our region have changed and how we can accelerate solutions. To learn more, please join us at two upcoming Community Meetings:
Wednesday, Aug. 25th
4:00 p.m. to 6:00 p.m.
Thursday, Sept. 13th
4:00 p.m. to 6:00 p.m.

The first meeting on Aug. 25th will feature presentations on data, updates on current Mountain Housing Council partner projects, the new 'Achievable Housing for All' process, and opportunities for community feedback.
The second meeting on Sept. 30th will feature the Regional Housing Implementation Plan and a discussion of next steps on tackling housing solutions for our region.
Placer County Pauses New Short-Term Rental Permits
To address the unprecedented housing needs in the region, on July 27th, Placer County Board of Supervisors enacted an initial 45-day ban on new applications for short-term rentals in Eastern Placer County. The urgency ordinance took effect immediately and includes two important exceptions.
Town of Truckee Expands Local Workforce Rental Program
On August 2nd, the Truckee Town Council voted in favor of expanding the Town's successful residential rental grant pilot program from one grant type to six starting in mid-August. The program will now include cash incentives for single room rentals, shorter lease term options, and more funds in general.
New TRPA Rules Allow for More Accessory Dwelling Units in the Basin
On July 29th, the Tahoe Regional Planning Agency (TRPA) Governing Board approved several new rules that will allow California homeowners to build Accessory Dwelling Units (ADUs). The new rules incentivize ADU construction near transit and town centers at affordable rates.
LUNCH-N-LEARN SPEAKER SERIES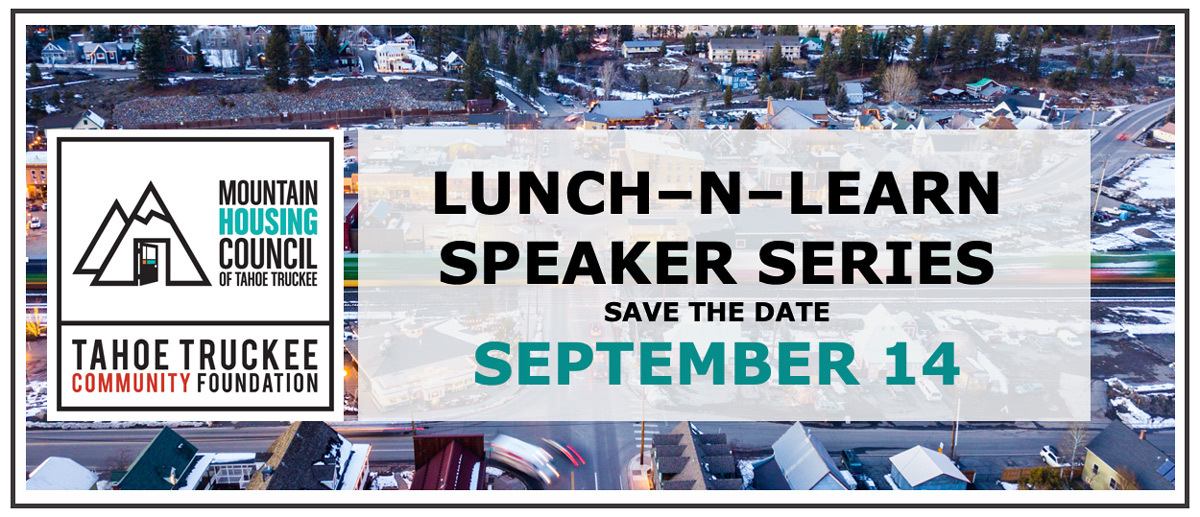 Alternative Building Materials: Hempcrete
Featuring speaker Greg Flavall,
Co-Founder of Hemp Technologies Global
Tuesday, September 14
12:00 p.m. to 1:00 p.m.
Hempcrete or hempline is a lightweight biocomposite material used as a breathable material for construction and insulation for energy efficient homes. Greg Flavall, co-founder of Hemp Technologies Global, not only supports ADU construction to create more affordable housing opportunities with pre-approved site plans and green materials, but he has built the first fully permitted hemp homes in the USA, Australia, New Zealand, and Mexico. Come find out more about housing opportunities provided by Hempcrete at this free Lunch-n-Learn webinar. Find out more here.
Applications Available at Coldstream Commons
One- and two-bedroom apartments for households earning 60% Area Median Income or below are available at Coldstream Commons. Pick up an application at the Sierra Community House or the Town of Truckee, or have one mailed to you by calling 916-561-0324. More.
For more information about qualifying for affordable housing in our region, visit the Understanding AMI page on the Mountain Housing Council website.
If you missed last month's MHC Quarterly Meeting, the highlights can be found here.
Volunteer with the MHC
Take an active role in our housing crisis by joining a Mountain Housing Council Working Group to advocate for achievable housing solutions for all. Contact Kristina@ttcf.net to get involved.
Stay Up To Date With Local Housing Issues and Programs
Follow us on Facebook for weekly housing updates, news, and announcements. Check out our previous meetings for recent housing policy updates and progress; we've posted the meeting material from the January 15th MHC Quarterly Update on the website.
Check Out MHC Partner Updates
We've created a new page on the MHC website where the 27 partners of the MHC can share their updates on progress made on various housing programs and policies. Check out the page and learn more about the new Truckee Tahoe Workforce Housing Agency too.