Description
Achievable Local Housing is a framework developed by the Mountain Housing Council (MHC) in 2017 to define the range of unmet housing needs in the region.
Mountain Housing Council's Recommendation
In order to identify solutions for our housing challenges, first we must create a framework that defines the problem. MHC has put forward the Achievable Local Housing Policy Recommendation to more accurately define the range of housing needs in the area that include: no- to low-income to upper level incomes (195% AMI).
We also recognize that to create housing across the spectrum of needs, different strategies, developers, partners, and funding needs to come into play. Not one approach works across the spectrum of housing and income needs.
Achievable Local Housing Bridge
The Achievable Local Housing Bridge is a graphic developed by MHC to show the range of housing needs in the North Tahoe-Truckee region. The spectrum of needs, as seen below, ranges from those having no income (i.e. homeless) up to middle income earners (i.e. 195% of the area median income). Additionally, the bridge shows the types of housing and funding that generally fall into the different income categories.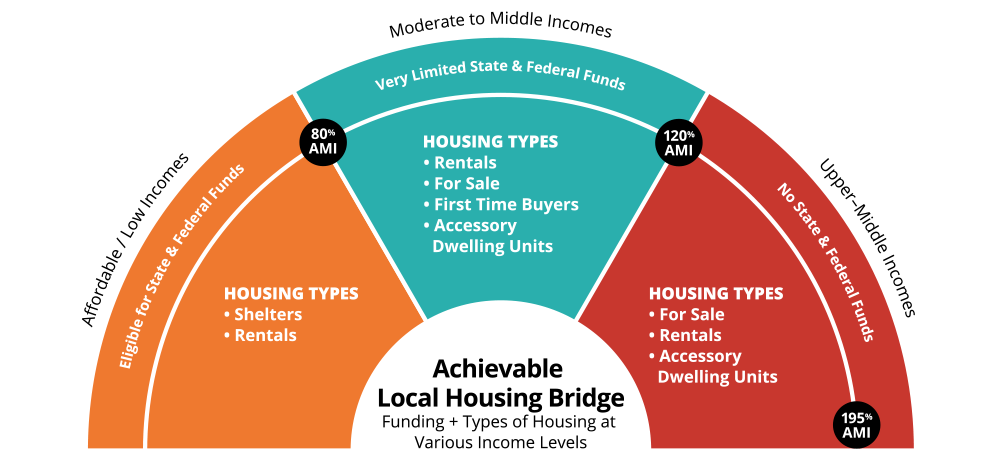 Learn more in the Achievable Local Housing Policy Recommendation.
Read the full Achievable Local Housing Policy Brief.
Use of the Policy Recommendation
The goal of this recommendation is to catalyze local conversations and innovations to serve housing needs across the spectrum, including areas where state and federal funding fall short.
Adoption of this recommendation will require separate and specific implementation by each of the MHC member jurisdictions. Approval of the Policy Recommendation by the Mountain Housing Council does not obligate any of the member jurisdictions to implement it. It's up to each of the 27 MHC members to implement the Policy Recommendation as they see fit.
Actions Taken To-Date
Nevada County
The Draft Housing Element (for review by BOS on 6/25/19) includes policy language such as "missing middle" or "workforce housing" that will have the same incentives available as the more traditional income levels.
Town of Truckee
The 2019 housing element includes language about considering expanding "Inclusionary Housing Ordinance" to include requirements for "Achievable Housing."
Tahoe Regional Planning Agency 
The adopted definition of achievable housing applies Basin-wide and went into effect 1/1/19. The new definition goes beyond, up to 220% AMI, which is above the 195% AMI that was recommended in the MHC policy paper, however it follows the same guidelines. The eligibility for bonus units has been expanded beyond traditional "affordable" housing income levels to include "achievable housing." The bonus units are free with no waitlist – unlike market-rate units.
Subscribe to email updates: