We have a lot of valuable information in this issue. Please take time to review these highlights and click on the links provided to read more.
Only One Day Left to Take the Housing Needs Survey
Your input is crucial in helping policy makers, employers, and regional housing advocates develop housing strategies that are much-needed for our region. The survey takes about 5-10 minutes to complete. The information is collected anonymously and general results will be shared at community meetings in late summer.

New Speaker Series Will Launch with the Basics of Community Housing
A new virtual, interactive speaker series, "Achievable Housing for All" Lunch-n-Learn Series, will provide an opportunity for community members to get involved in housing solutions. The series will cover a number of important housing-related topics and allow for engagement with experts in the field through a live Q & A.
The series will kick off on Tuesday, May 25th, 12PM-1PM, and focus on community housing basics – for example, understanding key housing terms such as "deed-restricted" and "achievable housing" – in an effort to help prepare the community to take advantage of upcoming housing opportunities. Speakers include Anne Marie Novotny, Housing Specialist with Placer County Community Development Resource Agency, Emily Setzer, the Senior Management Analyst for the Placer County Community Development Resource Agency, and Seana Doherty, the Housing Program Manager for the Town of Truckee.
New Public Meetings Page
The Mountain Housing Council is making it easier to stay current and weigh in on local housing issues through a new website page that lists all the pertinent information on public meetings in the North Tahoe-Truckee region. Bookmark the Local Housing Public Meetings page for future reference.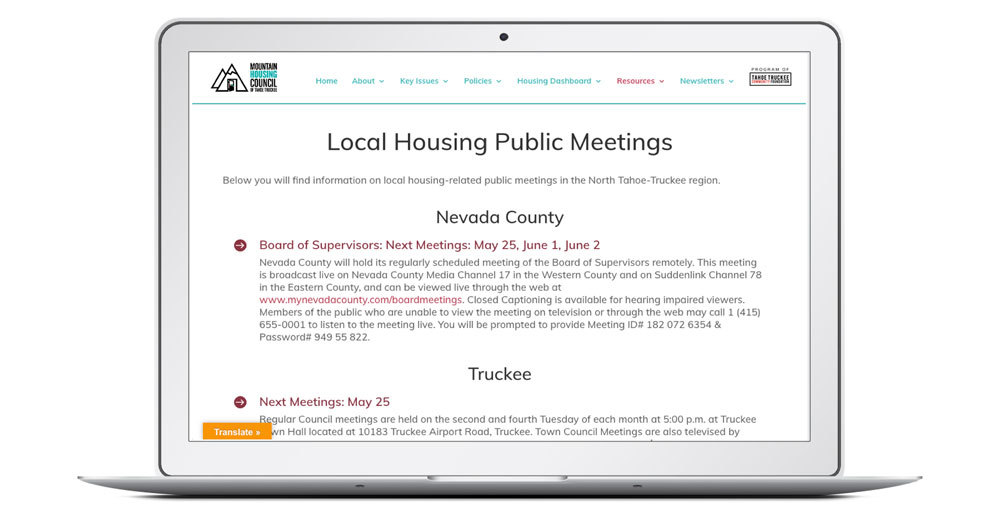 Truckee Town Council Approves Program Cap Increase to 150% AMI for Long-Term Rental Grants
Six months into Truckee's Long-Term Rental Grant Pilot Program, an innovative partnership between the public jurisdiction and a private company Landing Locals, there have been some lessons learned. Since the pilot program's inception, qualifying homeowners receive a $3,000 grant and free tenant-matching services if they rent their home for a minimum of 12 months to locally-employed tenants. The income qualification cap for tenants to qualify for the program has been set at 120% area median income (AMI) and landlords have been restricted to rent amounts based on 30% of their qualifying tenant's gross income. However, due to dramatic increases in housing market prices, homeowners with larger homes have not been able to take advantage of the program, preventing these homes from becoming available to local workforce through the program. At the recommendation of staff and several entities that weighed in, including the Tahoe Truckee Workforce Agency and MHC, the Town Council approved an update to the Program Guidelines to expand the income qualification cap from 120% AMI to 150% AMI in order to unlock more homes and serve more community members.
Watch the Town Council Meeting here.
Video Timestamp: 1:38:17 – 2:55:15
Save-the-Date: Truckee Town Council May 25th at 5:00 PM
The Town Council is expected to hear an update on the Senate Bill 2 (SB2) planning grant to explore rezoning and/or plan amendments to accelerate the development of housing on 11 potential sites in Truckee. The staff report and consultant study will be posted on the Town of Truckee website one week prior the meeting. Public comment is encouraged.
New Placer County Workforce Housing Program 
This spring, Placer County anticipates launching a new Workforce Housing Preservation Program that would pay homeowners to deed restrict their properties, ensuring that only local workers can purchase or rent them, as well as provide funding sources for down payments or renovations to qualifying home buyers. The program is modeled on Vail, Colorado's, InDEED program, and was launched in response to rising home costs and limited housing availability.
Placer County Board of Supervisors Adopts the 2021-2029 Draft Housing Element
After approval on May 11th by the Board of Supervisors, Placer's Draft 2021 Housing Element will be submitted to the California Department of Housing and Community Development (HCD) for review and certification. The Housing Element will cover the County's identified housing goals, policies, and programs from 2021 through 2029.
Note that the Next Placer County Board of Supervisors Meeting will be on May 25th.
You can find more details here.
If you missed last month's MHC Quarterly Meeting, the highlights can be found here.
Volunteer with the MHC
Take an active role in our housing crisis by joining a Mountain Housing Council Working Group to advocate for achievable housing solutions for all. Contact Kristina@ttcf.net to get involved.
Stay Up To Date With Local Housing Issues and Programs
Follow us on Facebook for weekly housing updates, news, and announcements. Check out our previous meetings for recent housing policy updates and progress; we've posted the meeting material from the January 15th MHC Quarterly Update on the website.
Check Out MHC Partner Updates
We've created a new page on the MHC website where the 27 partners of the MHC can share their updates on progress made on various housing programs and policies. Check out the page and learn more about the new Truckee Tahoe Workforce Housing Agency too.