By Julia Waltner, Truckee Cohousing
I remember walking through the neighborhood for the first time and thinking "is this place for real?"
The layout of the homes created a car-free neighborhood where our kids felt immediately comfortable. The design also created invitation for vibrant community interactions with common spaces for walking, playing, or gathering.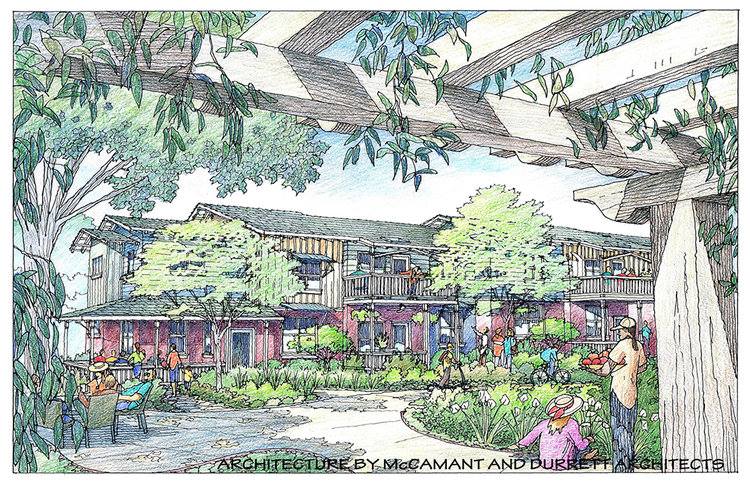 Fruit trees and lilac line walkways where front doors are adjacent for neighborly chatting. Parking is on the periphery creating a park like feel when walking in between housing blocks. The common house is available to all and features a dining room for common meals with up to 60 people, ping pong and pool area, massage/music/yoga room, kids play room with climbing wall, as well as guest rooms that we reserved when our friends and relatives came for visits.
All this meant that we could live simpler but have access to a greater pool of resources. Our house was smaller, but our capacity seemed bigger. This community was not only safe and supportive, it was managed by residents and inspired us to become active citizens of our smaller community, as well as our larger.
Ultimately, leaving Nevada City Cohousing after two years was hard, but our heart is in Truckee. It was an eye opening experience and we are thrilled to be a part of creating a Cohousing in Truckee. We see a big void in Truckee and want to continue our role as citizens in filling that void with a supportive and family-friendly neighborhood, similar to that of Nevada City Cohousing.
Do you want to live in a community-designed neighborhood in Truckee? We want to hear from you! Community members interested in learning more about Cohousing are invited to join us at a potluck/info meeting on September 30th at the Truckee Regional Park from 4-6:30 pm. (RSVP) We will also be coming up with next steps for getting the word out about the Getting-it-Built workshop on Nov 4-5 (Click Here)
Visit us online at TruckeeCohousing.org