On February 19th and 28th, two delegations of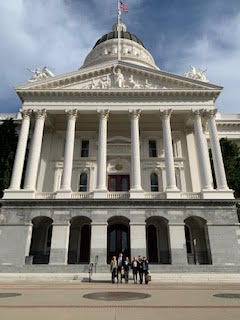 MHC members traveled to Sacramento for meetings with key policymakers. The purpose was two-fold: to bring awareness to the housing crisis in the Tahoe-Truckee region and to learn how proposed state policies would affect our region. Among the policy priorities conveyed by the group were support for policies that develop and unlock accessory dwelling units (ADUs), dedicated funding for rural areas in statewide affordable housing funding programs, and incentives for mobile home parks to be sold to residents or community organizations. The group met with several housing leaders, including Senator Jim Beall (representing San Jose), Louise Bedsworth (Executive Director of the Strategic Growth Council), and Ronda Paschal (Governor Newsom's Housing Legislative Deputy). MHC will continue cultivating partnerships with policy makers and statewide organizations in an effort to bring resources to our region's housing crisis.
"Our region was well represented, organized and articulate. We presented MHC's policy interest to multiple legislatures and staffers throughout a very busy day, and specifically weighed in on policies and language that helped advance our regions' need for solutions to housing.I was personally so proud of being with colleagues that showed up to advocate for the needs of our region," said Stacy Caldwell, CEO of Tahoe Truckee Community Foundation (TTCF) – the lead organization of the Council.