Tagged with:
ADUs
|
Building Smart
|
housing policy
|
newsletter
Truckee Sanitary District Changes to Scalable Connection Fee
Your voices were heard! On March 18, in response to public comments, the Truckee Sanitary District (TSD) Board of Directors paved the way to update the connection fees at their April Board Meeting. As a result, fees will become scalable, based on the sq. ft. of a residence, and include the following provisions:
Connection Fee = $1,440 per EDU (for 2,000 sq.ft. residence)
Residential Connection Fee = $0.14 per square foot of living area + $1,160 Base Fee
Commercial property rates will be based on the same EDU ratio as current connection fee
An escalation factor will be applied to the connection fee annually to account for changes in the cost of construction
The Board expressed appreciation to those that submitted comments, as these comments were instrumental in allowing it to choose a fee structure that takes the size of the residence into consideration. This will ultimately facilitate private investment in achievable housing solutions by encouraging the development of smaller units. Thank you to those who commented!
The Town of Truckee is Updating Its General Plan
Thanks to the Town Council, Truckee is embarking on a comprehensive update to its General Plan, and this provides an important opportunity for the community to weigh in on how the Town might best fulfill its community vision and how development should occur in the future by participating in the General Plan Advisory Committee (GPAC) and/or its meetings. The committee has been tasked with making recommendations on amendments to the Truckee General Plan to the Truckee Planning Commission and Town Council, and will play a critical role in developing inclusive planning efforts that ensure broad public participation. Advisory members will include volunteer community members representing a wide variety of backgrounds, community perspectives, and interests. To learn more about the GPAC, visit the GPAC page.
Dollar Creek Crossing: March 30
Placer County and the Tahoe Truckee Airport District purchased the 11-acre Dollar Creek Crossing Nahas property near Tahoe City in October 2019 to help find solutions to the Tahoe regional housing crisis, and are holding a number of community meetings in conjunction with the site's environmental review. The next one will be held on March 30 at 9AM at the Resort at Squaw Creek, located at 400 Squaw Creek Road in Olympic Valley. Find out more here.
ACCESSORY DWELLING UNITS (ADUs)
ADUs Can Increase Housing Inventory throughout the Region
A series of laws went into effect in 2020 which revise and relax the guidelines governing Accessory Dwelling Units (ADUs). These new laws are intended to help address the housing shortage in California and make the development of ADUs easier. Below, we discuss how our region is working to support the housing shortage with ADU programs:
What is an ADU?
An ADU is an attached or detached residential dwelling unit that provides independent living facilities in connection with a property's primary residence. Also referred to as a second unit, in-law unit, granny flat, residential unit, and/or guest suite, these units have the ability to provide additional housing capacity without necessarily increasing sprawl. For additional information, check out MHC's ADU White Paper.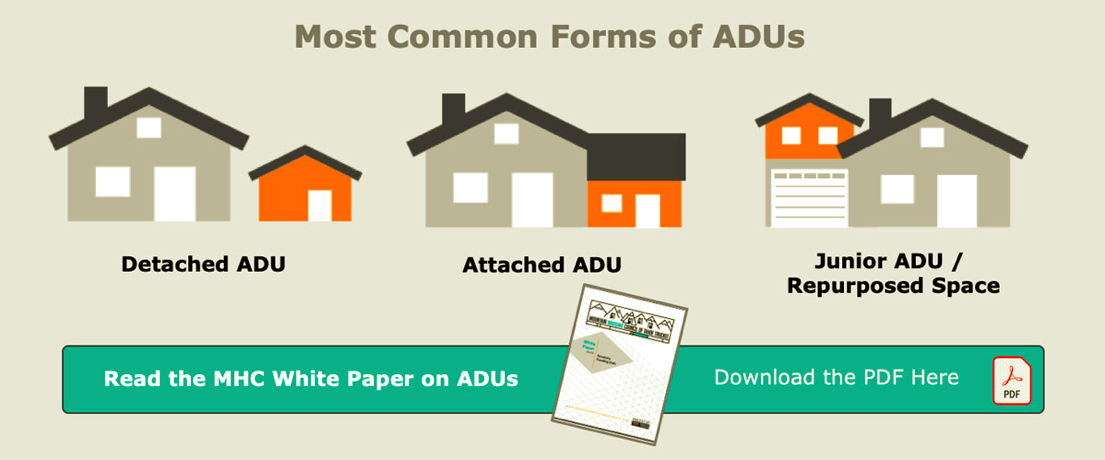 ADU Programs and Resources by Jurisdiction
Nevada County
Nevada now offers two informational pamphlets regarding ADUs: The "Fast Facts" informational sheet provides a quick starter guide for exploring the basics of ADU rules, regulations, costs and fees, and the "Frequently Asked Questions" document focuses on construction of an ADU. Read More
Placer County
Placer County features pre-permitted floor plans and a variety of other resources on its accessory homes website. Also note that Placer County and the Tahoe Regional Planning Agency (TRPA) approved a set of amendments to the Placer County Tahoe Basin Area Plan (TBAP) that affect ADU standards and permitting processes. You can read more here and attend the Tahoe Regional Planning Agency's free webinar on implementing ADUs on Wednesday, March 31 from 12:00 PM -12:45 PM.
Truckee
The Town of Truckee's ADU Program was launched with the goal of creating 15 new ADUs per year in order to increase the inventory of long-term, affordable rentals within existing neighborhoods in Truckee. The program provides information, technical assistance, incentives. Read more about the program here and access the Town's ADU Webinar 101 presentation here.

Have You Built an ADU in The Last Three Years? You May Be Eligible for a $2,000 Federal Tax Credit
If you have built or significantly renovated a residential structure up to a specific energy standard (i.e. obtaining the "Energy Efficient Home Credit 45L Certificate) and rent, lease, or sell that unit, you are eligible for a tax credit of up to $2,000 per unit for three years afterward. This credit is available to contractors, developers, homeowners, and others, and includes ADUs. Speak with your tax professional to find out more.
Volunteer with the MHC
Take an active role in our housing crisis by joining a Mountain Housing Council Working Group to advocate for achievable housing solutions for all. Contact Kristina@ttcf.net to get involved.
Stay Up To Date With Local Housing Issues and Programs
We've posted the meeting material from the January 15th MHC Quarterly Update on the website.
Check Out MHC Partner Updates
We've created a new page on the MHC website where the 27 partners of the MHC can share their updates on progress made on various housing programs and policies. Check out the page and learn more about the new Truckee Tahoe Workforce Housing Agency too.