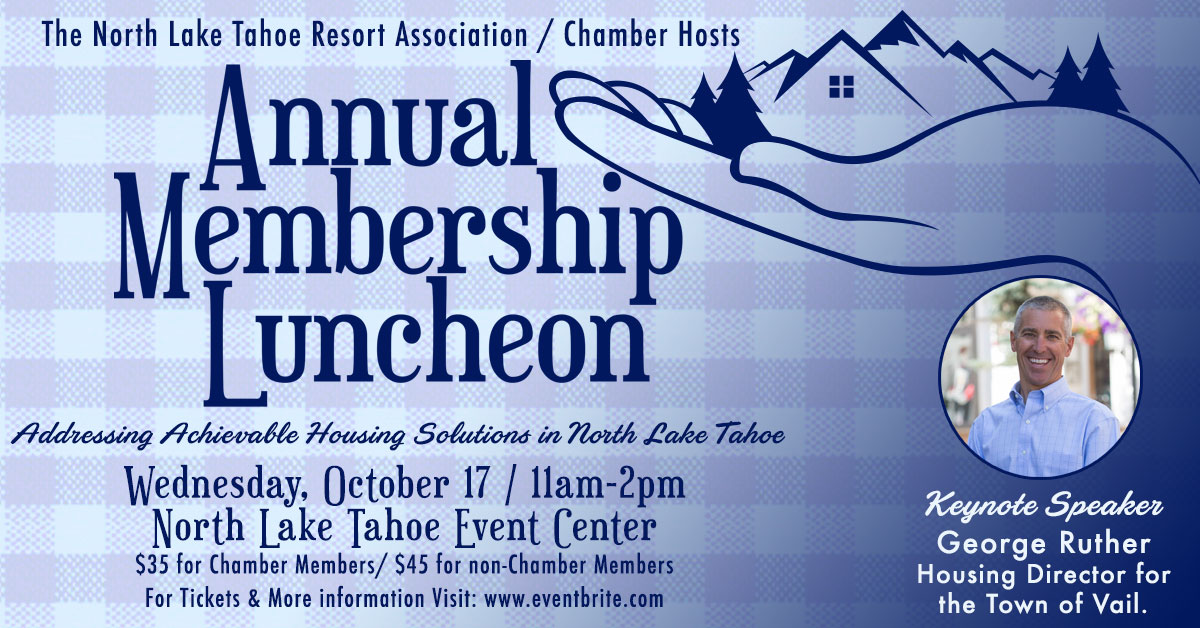 Headlining the event is George Ruther, Housing Director for the Town of Vail, CO; keynote will focus on long-range planning initiatives and the significance of a united community to implement change
Tickets to the Annual Membership Luncheon hosted by the North Lake Tahoe Resort Association | Chamber | CVB are on sale now; headlining the event is George Ruther, Housing Director for the Town of Vail, CO.
With more than 24 years of mountain resort community experience, Ruther is an expert in the creation and successful implementation of master plans and long-range planning initiatives focused on addressing resort community's most challenging issues. Understanding that year-round residents are critical to maintaining and sustaining community, the Town of Vail views housing as infrastructure – a community support system – not unlike roads, bridges, water and sewer and similar services delivered by municipal government.
As local stakeholders in the North Lake Tahoe-Truckee region begin to identify viable housing solutions, the Luncheon will give perspective on innovative for-sale and for-rent developments along with leadership models that are both inspirational and unified. Ruther offers a unique glimpse into a community that has successfully established policies and funding sources.
The Membership Luncheon will take a solution-focused approach and demonstrate the importance of leveraging support from government and private sectors.
"The staggering reality of our housing crisis is that it is changing the fabric and nature of our community. The Town of Vail faced the same issue and has developed a community vision and come together to successfully address solutions," explained Cindy Gustafson, CEO of the North Lake Tahoe Resort Association | Chamber | CVB and founding partner of the Mountain Housing Council. "This a topic that affects our entire business community."
The Annual Membership Luncheon will be held on Wed., Oct. 17 from 11 a.m. – 2 p.m. at the North Tahoe Event Center in Kings Beach. Tickets are available for purchase via Eventbrite, cost for Chamber Members is $35 and cost for Non-Members is $45. Additional speakers include Cindy Gustafson, CEO of the North Lake Tahoe Resort Association I Chamber I CVB, Stacy Caldwell, CEO of the Tahoe Truckee Community Foundation, and Mayumi Elegado, Publisher and Editor-in-Chief of Moonshine Ink.
"Housing is everything," stated Caldwell. "It is community. It is education. It is fire department response times and after-school programs. It is seeing a familiar face at a local concert and a friendly server at your favorite restaurant. Without housing our community crumbles."
 ###
About North Lake Tahoe Resort Association: The North Lake Tahoe Chamber | Resort Association | CVB is celebrating 64 years of supporting small businesses and major resorts, ultimately enhancing the strong and vibrant North Tahoe community. The Resort Association combines Chamber of Commerce and Destination Marketing services to assist local businesses and connect community leaders. Supported by a contract with Placer County and Membership dues, the team is focused on midweek and shoulder season visitation, transportation and housing solutions, and visitor services. The North Tahoe Chamber ultimately provides a collective voice for the local community.
About Vail, CO Housing Department: Directly responsible for policy development; housing regulation implementation, compliance and oversight; lottery administration; program administration; and developments and initiatives which increase the overall supply and availability of housing opportunities within the community and throughout the region. The availability and affordability of housing remains the #1 most critical issue facing the Vail community.
Press Contact:
Liz Bowling
D: (530) 581-8778
C: (303) 726-7104
Liz@GoTahoeNorth.com