In our ongoing efforts to accelerate local housing solutions, the Mountain Housing Council of Tahoe Truckee studies what other communities are doing and what other experts are saying. Multiple sources have sent us an editorial by Housing for LA titled 25 Solutions From A Builder's Perspective To Fix The California Housing Crisis. It's a good read for anybody interested in achievable housing issues. While a large urban area like Los Angeles is different than our rural region, we picked out a few items on their list that connect with our challenges and our potential solutions.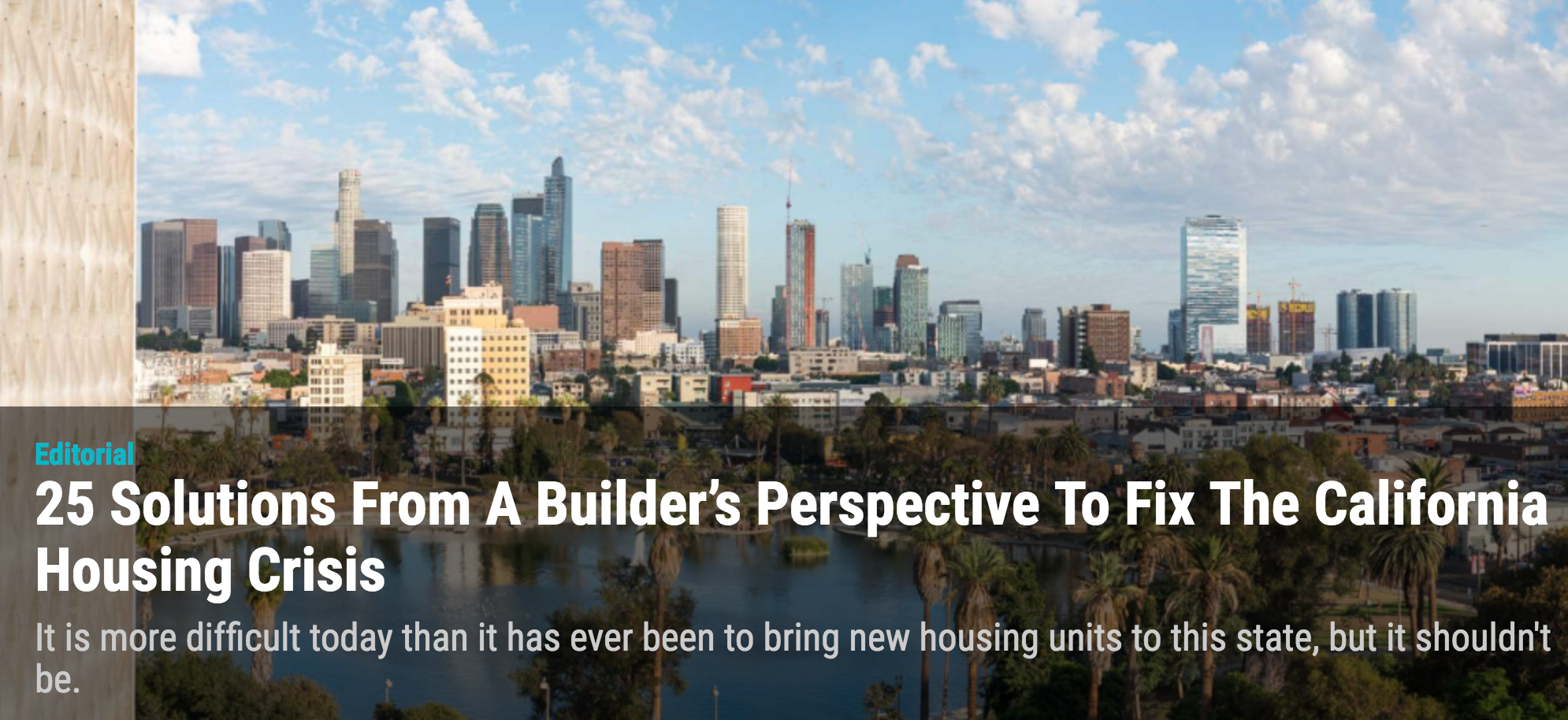 Click the image to view the original article
2) "Stop Killing Housing By Delaying Approvals" – One of the policy areas Mountain Housing Council is working on is shortening or streamlining the approval process for achievable housing projects. Click here to see what the Innovative Policy Team is working on. 3) "Create New Zones For Missing Middle Housing" – Zoning changes is one possible outcome of the unanimously-adopted expanded definition of local achievable housing passed by the Council January 2018. For those that don't know, the missing middle is those who make too much to qualify for state and federally funded affordable housing (up to 120 percent of the median income), but too little to afford market rate housing (in Tahoe-Truckee area, around 195 percent of median income). 5) "We Must Woo The Publicly Traded Homebuidlers Back to California" – While that's more of a state-sized problem, locally there's been discussion of builders who've picked up stakes and followed the booming growth occurring in the Reno area, just across the state line. 10) "Be Very Careful Adding New Fees to Developments That Create New Housing" – Fees are an area Mountain Housing Council tiger teams and consultants are reviewing very closely. The Town of Truckee recently passed an update to impact fees – making them on a per square foot basis rather than per unit basis – with the idea of reducing obstacles to smaller, more affordable units. 12) "Incentivize and Remove Planning Approvals for as much Affordable Housing As Possible" – Like number two, this goes back to the work of the Policy Tiger Team, working on ways to streamline approval processes. 19) "Digitize and Open Source Zoning Information for all Property in California" – Another state-sized project, but the Mapping Tiger Team is working to identify land that could be used for achievable housing throughout the region. The team is looking at public and private land, planning a tour with developers and real estate professionals to assess the different parcels. To see the entire list of 25 ideas, go to the article on urbanize.la by clicking here.